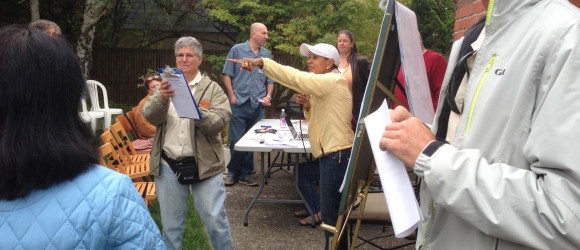 Many thanks to all neighbors that attended the SHHA Annual Meeting on Saturday September 14th.  For those of you who were unable to attend here is a summary of key discussions items:
SHHA Election Results
Sandi Bethune, President
Barbaretta Morris, Vice President
Chris Quan, Secretary
Paul Wong, Treasurer
John Nichols, Director at Large
Barbara Cardoza, Director at Large
Jeff Morelli, Director at Large
Dale Davis, Director at Large
Kris Drobocky, Director at Large
Capt. Steven Tull-Oakland Police Department
Steve gave us some important insight on crime in Oakland, some of which you may have read in the newspaper.  Robbery is the number one crime of opportunity.  Much of it is committed by juveniles who commit for no other reason that "seeking the thrill,"  and they can be very violent.  In many cases the police may know who committed the crime but they must have proof  before making an arrest, in order to get a conviction in court.  He explained that a homicide  or an Occupy Oakland type situation requires an all-hands-on-deck response.  He also gave us more information about human trafficking problems, gang activity and answered questions regarding some high profile cases.
Capt. Tull, (he prefers we just call him Steve), is personally committed to his job and his responsibiities.  He is working hard for Area 4 residents to reduce crime so we can live with less fear.  He provided us his contact information:
Cell phone 510-385-8901
email address stull@oaklandnet.com
He also encouraged us to use our City Council process if we feel that city leadership is falling short on our needs.
Susan Kaymon-Oakmobi
Susan is a Sequoyah Hills resident who started a text alert service called mobiNotice.  She thoroughly explained features, reports and pricing.  There are 50 Sequoyah Hills subscribers, as well as other hill area communities.  If you would like more information or would like to subscribe to mobNotice, contact Susan directly at susan.kaymon@oakmobi.com
Nate Cook-Intervention Security Patrol
You may have seen these "very-police-looking" vehicles positioned at the Merritt College entrance to the Ridgemont Community.  This company provides a variety of security services including 12-hour car patrol service (about 7 ride-throughs per 12-hour shift), uniformed employees that will stop and question suspicious looking vehicles or people, vacation service, etc.  Many of their employees have backgrounds in law enforcement or the military and they have a relationship with the Police Dept.  They customize security services and pricing after determining the exact needs of the comunity.  Nate has been invited to the next Board of Directors meeting, October 8th, to get more information about our community's needs.  Once we have a proposal, we will share it with the entire community.  Outcomes could include but are not limited to, patrol for individual subscribers (similar to Bay Alarm), patrol services to each home in the neighborhood, vehicles posted at all three entrances/exits.  If you have a specific question for Nate please respond directly to me and I will see that it gets addressed at the next meeting.
Sequoyah Hills Car Decals
Jeff Morelli distributed our new Sequoyah Hills Resident car decals to everyone present at the meeting.  These stickers are intended to identify vehicles belonging to residents  living in this community.  If you see the same vehicle repeatedly without a sticker, it could serve as a red flag, that the car may be stolen or in the neighborhood for the wrong reason.  If you did not attend the meeting your sticker(s) will be hand delivered to your home over the next several weeks and you will need to sign off for receipt.  You will receive a sticker for each car residing at your address.  The sticker should be place on your lower rear window on the passenger side.
Website:
Be sure to checkout our updated web site at sequoyahhome.org
Committee Updates
Reports provided from Social, Safety, Communications, Environmental,  Treasurer and Board.  All committees are seeking more participation and you do not have to be an official SHHA member to serve.  If you want to help, respond to me directly and I will pass your name to the committee chair.
Oak Knoll Update:
SHHA resident Robert Clark was unable to attend the meeting but provided this very informative and detailed update on the reuse of the Oak Knoll Naval property.
Background:
Before the economic downturn in 2008, Lehman Brothers (Investor) and SunCal (developer) were working on a development project for the Oak Knoll Naval Hospital property below our development.  They planned to put in about 950 housing units and a small retail center with a grocery store as the anchor tenant.  The project was abandoned when Lehman Brothers declared bankruptcy, and it has taken years for the property to work it's way through the bankruptcy process.
Current Status:
Lehman has emerged from bankruptcy retaining ownership of the property, and planning has begun on a new version of the project with Signature Homes now in the role of developer.  The Oak Knoll Coalition (a coalition of the Homeowners Associations surrounding the Oak Knoll property to which our association belongs) met with Lehman and Signature last month for an update on their plans.
Signature and Lehman are going through multiple iterations of their plans, and have not yet selected a single plan.   The developers will present "one or two concepts" at a larger public meeting when they are ready – probably within a few months. They are building on the planning  work of the "SunCal era," but are also taking a fresh look at all of the project elements.
Their current plans  are:
Name. The name of the project would remain as Oak Knoll.
Rifle Range Creek. The creek will remain vital to the plan. This would include daylighting and respecting the footprint of the creek although the varying steepness (or slope) might be graded in order to reduce elevation drops. In the last 6 years, they have refined their thinking and now favor a gradual descent to facilitate access by wildlife. The creek drops about 110 feet through the Oak Knoll property.  The plan would include a wide open space area all along the creek through the property and include one or more pocket parks.
Trail system. There will be a trail system next to the creek, now on both sides. In fact, depending on the map, trails were being used throughout the property to link the knoll, 14 acres, creek corridor, pocket parks, and the wider community.
Housing. The planned unit count is about 960 housing units.
Commercial. The commercial will be from 65,000 to 82,000 square feet, to be accessed from both the Keller and  Mountain Blvd entry. They plan to include a grocery store, a few restaurants, bank, coffee shop.  No liquor stores.  Whole Foods and Sprouts have apparently expressed interest. Main Street, the main road through the property, will be realigned to parallel the creek greenbelt, would serve the commercial site.
Focus Areas
We did an group exercise to identify key area the community wants Board to work on.  These are the Key Focus Areas fir next year:
Safety
Security
Home Curb Appeal
The meeting was well received by all in attendance and we hope to see more of you at next year's annual meeting.
Sincerely,
Sandi Bethune
President  HOA